Skip to Main Content
It looks like you're using Internet Explorer 11 or older. This website works best with modern browsers such as the latest versions of Chrome, Firefox, Safari, and Edge. If you continue with this browser, you may see unexpected results.
Research Librarian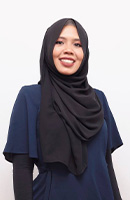 Nur Diyana
How to use this guide
Welcome to the Library Guide for the UTown Writing Modules Level 1!
On this guide, you will find a list of all the modules that are currently offered in UTown for Semester 2, 2020/2021..
You can navigate to the module that you are enrolled in by clicking on the tabs above. You can then find the recommended databases, resources and even the slides from the Librarians for the Library sessions held.