Skip to Main Content
It looks like you're using Internet Explorer 11 or older. This website works best with modern browsers such as the latest versions of Chrome, Firefox, Safari, and Edge. If you continue with this browser, you may see unexpected results.
Library Basics & Handouts
Writing & Citing
For your assignments, you will need to cite your references in APA 7th Edition so as to give credit to authors and also to avoid charges of plagiarism.
If you are unsure how to cite in APA 7th Edition, you can visit:
This APA Citation Style Library Guide created by NUS Librarians
Or watch this video on how to use Zoterobib
If you want to know more about plagiarism and more importantly, how to avoid it, click on the picture below to view the info-graphic on plagiarism created by your friendly NUS Librarians:
Or you can view this video if you prefer moving images:
Essential Databases
This is a list of essential databases for your exposition paper (Paper 3):
Factiva

This database contains newspaper reports, blogposts, and transcripts of interviews. This database would be useful if you need to search for some primary sources.

International Bibliography of the Social Sciences

This database from ProQuest index numerous top journals in the Social Sciences such as Political Science, Sociology and Communications

Sociological Abstracts

This database is specialized database that focuses on research done on sociology, anthropology. It will be useful for anyone trying to examine neoliberalism in the society that they are studying.
Other Useful Databases
| | | |
| --- | --- | --- |
| Name | Link | Description |
| JSTOR | | Most popular database among students. Contains important articles from several disciplines, however it does not have the latest articles because it aims to be a digital archive of high-impact journals. |
| Scopus | | Covers a wide range of topics. You can find the latest research here. Only has journal articles. |
| Web of Science | | Similar to Scopus. Does not work in Internet Explorer browser. |
| Project Muse | | Although it is a multi-disciplinary database, it focuses more on the humanities. Other than journal articles, it also has book and book chapters to download. |
| | | |
| --- | --- | --- |
| Name | Link | Description |
| Social Science Abstract | | This database from Ebscohost covers various disciplines in the Social Sciences, such as Sociology, Geography and Political Science. |
| Communications & Mass Media Complete | | This database from Ebscohost is a specialized database that focuses on studies done on fields of mass media and communications. |
| PAIS Index | | This database chronicles the world's public affairs, public and social policies, international relations, and world politics. |
| Worldwide Political Science Abstracts | | This database provides international literature on political science and international relations, along with complementary fields, including international law and public administration/policy. |
| | | |
| --- | --- | --- |
| Name | Link | Description |
| Proquest Dissertation & Theses Global | | It is a full-text database that contains Masters and PhD-level dissertations mainly from the United States and United Kingdom. Many of these dissertations are not published as monographs, nonetheless it is still very useful. |
| Scholarbank@NUS | | Under Electronic Thesis and Dissertations community, you will find MA and PhD thesis written by NUS students from Sep 2003. Anything before would exist in hardcopy and a selection are kept in the library. |
| Honours Thesis | | This link contains more information and steps to search for honours thesis written by NUS students that are kept in the library. |
Resource Librarian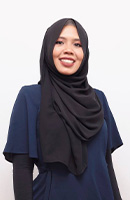 Nur Diyana
Fact Check!
FactCheck
FactCheck is a nonpartisan, nonprofit "consumer advocate" for voters that aims to reduce the level of deception and confusion in U.S. politics.
Factually
Factually (Singapore) aims to clarify widespread or common misperceptions of Government policy, or inaccurate assertions on matters of public concern that can harm Singapore's social fabric.
Politifact
The Politifact team of journalists looks at original statements given by public figures and publish their findings on the website together with sources and evidence.
Reporters' Lab maintains a database of global fact-checking sites. You can use the map on the page to explore sites around the world.
Snopes
Snopes claims to be the internet's definitive fact-checking resource and news they evaluate include politics and popular culture.
This Wikipedia page has a list of fact-checking websites globally. The list includes websites providing fact-checking about both political and non-political subjects.