Skip to Main Content
It looks like you're using Internet Explorer 11 or older. This website works best with modern browsers such as the latest versions of Chrome, Firefox, Safari, and Edge. If you continue with this browser, you may see unexpected results.
Moving from Endnote to Mendeley and vice-versa
If you are looking to switch citation managers, in this case from EndNote to Mendeley or from Mendeley to EndNote, you can easily do it. Both EndNote and Mendeley can import and export .RIS files. By using this .RIS file, the transfer of EndNote to Mendeley or Mendeley to EndNote can easily be done.
Exporting EndNote Citations
To export your EndNote library into a .RIS file, first select the citations that you want to export.
Next, click on file and select export.
Next, in Output style, choose Select Another Style and search for and select Refman (RIS) Export.
Once you have done that, it is time to save the file as a .RIS file. First make sure that the Save as Type is a Text File (.txt). Next, add a .RIS after the filename and save. Your EndNote library has been exported into a .RIS file.
Importing EndNote Citations into Mendeley
To import the .RIS file into Mendeley, click on File and then select Import. Choose the option that says RIS- Research Information System and select the file you want to import. The citations from the EndNote library will automatically be imported.
Exporting Mendeley Citations
To export Mendeley citations into a .RIS file, first select the citations that you want to be exported.
Next, click on File and select Export.
Next, make sure that the Save as Type is in a .RIS file format. Once that has been done, click on save and your citations will be exported.
Importing Mendeley Citations into EndNote
To import .RIS file into EndNote, first click on File followed by Import --> File.
Make sure that the Import Option is Reference Manager (.RIS). Choose the .RIS file that you want to import and the citations will be imported into EndNote.
Resource Librarian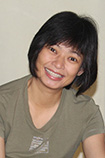 Winnifred Wong