Skip to Main Content
It looks like you're using Internet Explorer 11 or older. This website works best with modern browsers such as the latest versions of Chrome, Firefox, Safari, and Edge. If you continue with this browser, you may see unexpected results.
What's in this guide?
What is NUS Elements?
Accessing NUS Elements
NUS Elements Quick Start Guide contents
Scenario 1 - First deposit
Scenario 2 - Subsequent deposit
What happens next?
Where to obtain the weblink?
What is NUS Elements?
NUS Elements is the Research Publication system of NUS. It searches for possible NUS publications from many data sources (for e.g. Scopus, Web of Science, PubMed, Google Books), and populates NUS researchers' profiles with publications and metrics from those data sources. It is recommended that NUS researchers maintains and keep their own profiles updated at all times.
Accessing NUS Elements
There are 2 ways to access NUS Elements:
Directly via this url - https://meprd.nus.edu.sg/
From Staff Portal > Academic Staff Services > Research > NUS Research Publication System (Elements)
NUS Elements Quick Start Guide
If you need any assistance or help in using NUS Elements, please click on the Help icon at the top right of the page in NUS Elements, or refer to the NUS Elements Quick Start Guide (accesible to NUS staff only).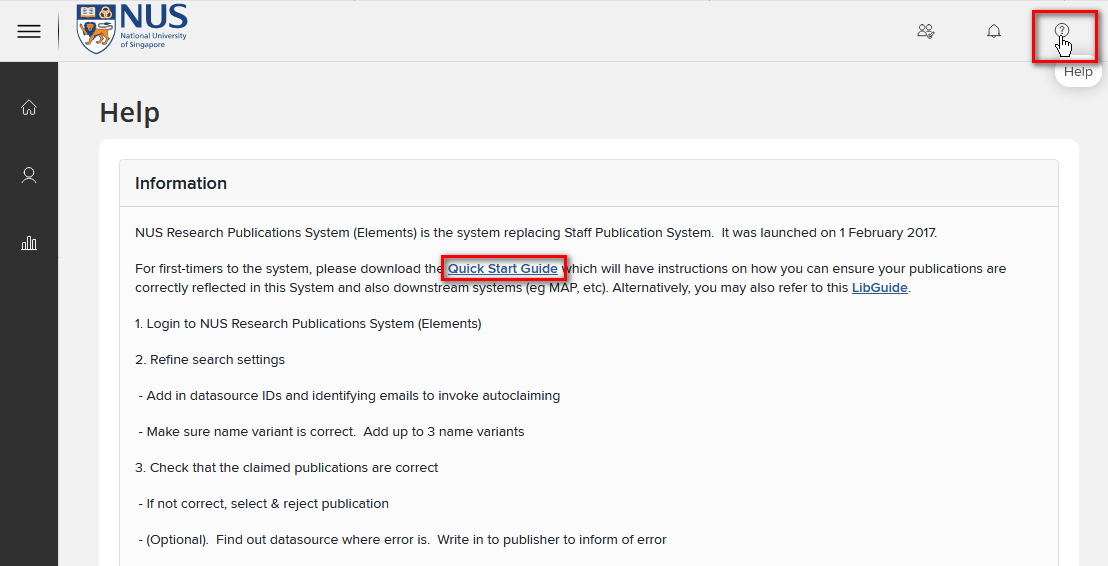 The Quick Start Guide contains useful information to new users on the following items:
Navigating NUS Elements
Updating your Publication Profile
Claiming/Rejecting pending publications
Adding Publications (when it cannot be found from data sources)
Link publications to WBS
Deposit Full-text
Other FAQs