Skip to Main Content
It looks like you're using Internet Explorer 11 or older. This website works best with modern browsers such as the latest versions of Chrome, Firefox, Safari, and Edge. If you continue with this browser, you may see unexpected results.
CH2245 Reading List 跨界现代中国:文学·文化·历史参考书目 (AY2015/2016, Semester 1)
请以IVLE里的"CH2245 跨界现代中国:文学·文化·历史参考书目"课程大纲为准。
如是闭架书目(Closed-stack books),请网上预借。
有关此门课的RBR阅读书目,请浏览图书馆综合目录: LINC > RBR > Course Number > CH2245。
English:
Culp, Robert Joseph.Articulating citizenship : civic education and student politics in Southeastern China, 1912-1940.Cambridge, MA : Harvard University Press : [distributor] John Wiley and Sons Ltd., c2007.
Hockx, Michel. Internet Literature in China. New York: Columbia University Press, 2015.
Hsiung, Ping-chen. A tender voyage: children and childhood in late imperial China, Stanford: Stanford University Press, 2005.
Jenkins, Henry. The Children's Culture Reader. New York: New York University Press, 1998.
Jones, Andrew. Developmental Fairy Tales: Evolutionary Thinking and Modern Chinese Culture, Cambridge, Massachusetts: Harvard University Press, 2011.
Kinney, Anne Behnke. Chinese Views of Childhood. Honolulu: University of Hawaii Press, 1995.
Saari,Jon L. Legacies of Childhood: Growing up Chinese in a Time of Crisis, 1890-1920,Cambridge:Harvard University Press, 1990.
Chinese:
毕苑,《建造常识:教科书与近代中国文化转型》,福州:福建教育出版社,2010。
[法]菲力浦·阿利埃斯著:《儿童的世纪:旧制度下的儿童和家庭生活》,沈坚/朱晓罕译,北京大学出版社,2013。
胡从经:《晚清儿童文学钩沉》,上海:少年儿童出版社,1982。
蒋风主编,《中国现代儿童文学史》,石家庄:河北少年儿童出版社,1987 。
刘慈欣:《三 体》,重庆:重亲出版社,2008.
梅家玲:《从少年中国到少年台湾:二十世纪中文小说的青春想象与国族论述》,台北市 : 麥田出版, 2012.
苏童:《刺青时代》,武汉:长江文艺出版社,1993。
Resource Librarian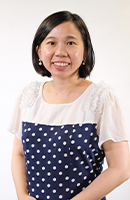 Chow Chai Khim