Skip to Main Content
It looks like you're using Internet Explorer 11 or older. This website works best with modern browsers such as the latest versions of Chrome, Firefox, Safari, and Edge. If you continue with this browser, you may see unexpected results.
Introduction
This subject guide covers resources available at NUS Libraries. This is not a comprehensive guide but rather a selective list of materials that are most useful for locating information related to Malay Studies. Need help? Have an assignment due? At a loss? Fret not! Contact your Malay Studies resource librarian :)
Research Librarian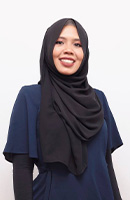 Nur Diyana
Check out our collection!