Skip to Main Content
It looks like you're using Internet Explorer 11 or older. This website works best with modern browsers such as the latest versions of Chrome, Firefox, Safari, and Edge. If you continue with this browser, you may see unexpected results.

Please Note
This Research Guide is under review. If you have any comments or suggestions, please email us!
Contact: mlbwsn@nus.edu.sg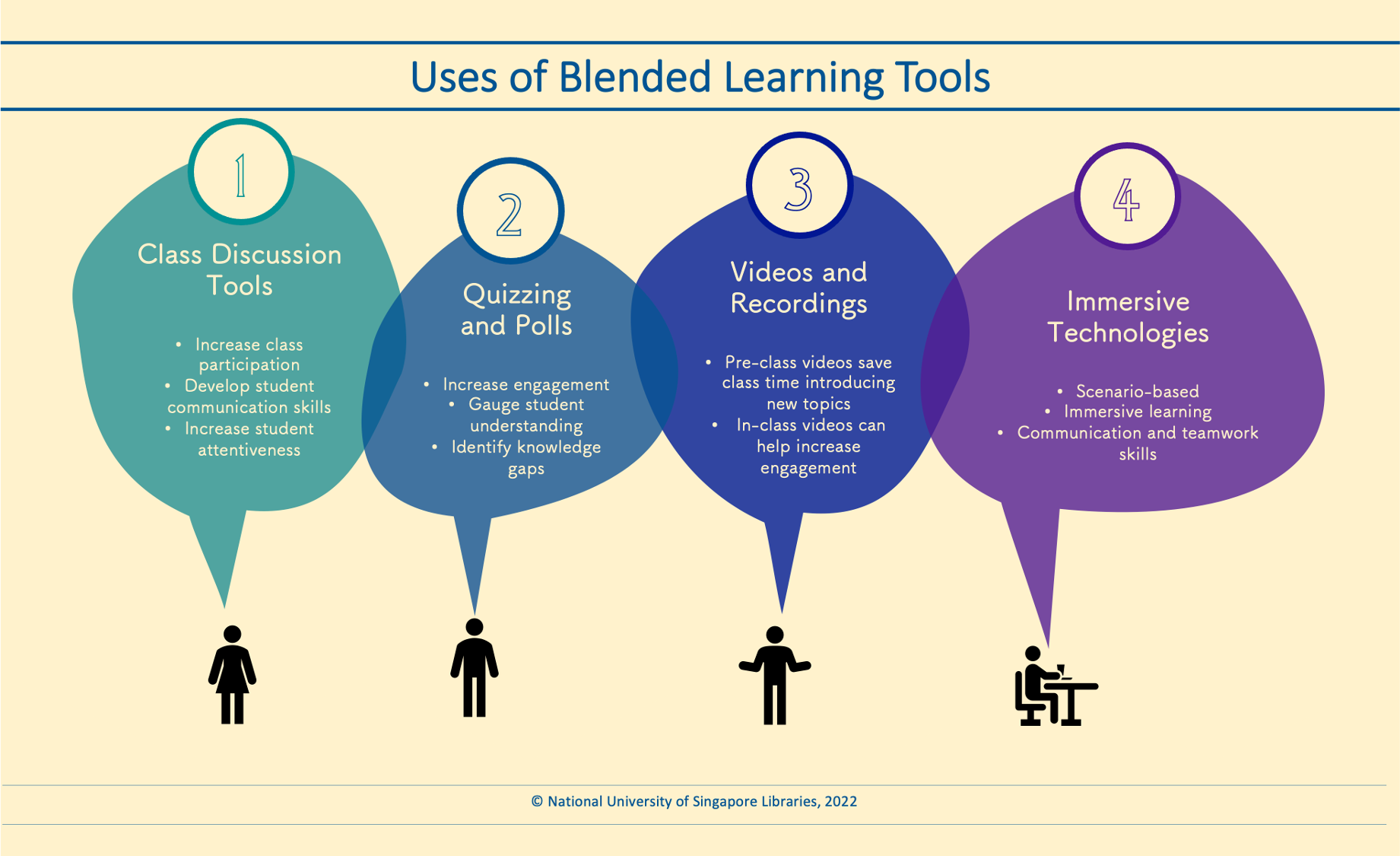 Note: This is not an exhaustive list of tools. We will add to this list as we use them in our library work. Please refer to NUS CIT's website for more services provided by CIT. Chat with the BL 2.0 Team for more help on designing blended learning courses.
Collaboration | Discussion
Collaborative discussion is one of the most effective tools to deepen students' understanding and engagement with texts. Educators play an active role to prepare students by creating an environment (e.g. using a discussion tool/platform) to scaffold discussion and monitor participation. Here are some of the tools and activities the library had tried:
Name of Tool

What is it?

Example of Use

Microsoft Teams
A workspace and chat platform.

Microsoft Teams channels are by our library teams to:

Organise webinars using the meeting function
Questions and replies can be posted on the channel page
Chat functions used for class discussion

Do take a look at CIT's page for more information.

Zoom chat function
Zoom chat allows the host to send message to all participants either privately or publicly to convey an instant message. Participants can also converse with the host/panelist to clarify questions either privately or publicly.

This is one of the examples, the instructors provide a link to the set of slides in Zoom chat while waiting for the rest of the participants before the session starts. participants chat with the instructor, using emoji to raise hands or Zoom reaction buttons (e.g. slower or faster) while presenting the set of slides.

Microsoft Sway

Sway is a simple digital storytelling tool that allows students to demonstrate learning in all subjects by including text, images, video, and sound recordings. Educators can share classroom procedures and create blended learning resources in a singular platform.

Instructor taught searching in PubMed by opening up a stack of cards in Sway. Students can then follow the steps and answer the quiz accordingly.

Feedback forms and activities as well as video recording, sound recordings are being found in one story telling digital platform such as Sway.

Miro Board

Miro is a collaboration platform that functions as an infinite whiteboard incorporating a wide variety of functions and content. Meeting notes, workflows, mind maps, collaborative assignments and more can be created and simultaneously worked on by several people in a team.

In one workshop, participants could discuss while sharing the Miro screen in Zoom, and add in sticky notes, links, graphics and other content into tables created for the workshop assignments, which had instructions and clues for each team. Answers were provided in the same Miro board after the workshop for the participants so that they could continue their discussions and information discovery.

Google Docs
Easy to use online word processor. A common tool that supports asynchronous learning, and also for collaborating in real-time. It enables sharing with different access levels.

Example below featured an activity conducted during a library's skills session in a module. On the topic of literature review, students learning on search strategy was being reinforced. Students received immediate and customised advice on how else they may approach their research topic, what to amend to get more relevant results, etc.

Padlet
It is a digital wall for posting and for discussion. Videos, image, text and audio can be shared when a Padlet link is being shared.

In plagiarism class for pharmacy students, the instructors shared a Padlet link and students post their individual paraphrasing assignment during the Zoom breakout room. The class can then upvote the post to decide on which is the best paraphrasing post.
Quizzes | Polls
Online quizzes and polls have numerous purposes, whether it's to make your audience think, share their opinions, or gain access to data to help improve your presentation. Here are some to the tools/softwares we had tried on our library sessions that you might want to give it a try:
Name of Tool

What is it?

Example of Use

Microsoft Forms
Microsoft Form is part of Office 365. It allows users to create surveys or quizzes with automatic marking. it is a good attendance-taking tool due to the export to Excel function.

Before conducting a workshop for Medicine Year 1 students, a list of questions are being asked to see how much content need to be covered during the session. General questions such as "What do you need to enter the library?" were asked to encourage students to ask question during workshop:

Results can be displayed in real time or export to an excel file to perform offline analysis:

Kahoot!
A list of questions can be played live/offline with some interesting sound effect. User can then add their own images, share the question as well as to indicate the mark so that participants can compete with each other in a fun way.

Kahoot was being played to break the monotony of the session. Students were excited and make fun of the nicknames being given before the game started. Instructor explained the answer as well as gave out prizes for the winners at the end of the game.

Zoom Poll

This function is available in both Zoom Meetings and Webinars.

Meeting hosts and alternative hosts are able to add polls that can be run by any of the other hosts.

Polls are presented as a pop-up window for ease of participation, no external link required!

In our Copyright Workshop, Zoom polls were used to allow participants to check their understanding of the concepts reviewed in the session. The response rate was relatively high as the Zoom Polls would pop up on participants screen, reducing barriers to participation.

Poll

Everywhere

Poll Everywhere allows the running of various formats to enable audience participation:

Word cloud.
Multiple choice question.
Open-ended question.
Clickable image questions.
Ranking question.
Q&A.
Surveys.

You can also embed the polls into your PPT Slides with an add-in.

Example of a PollEv embedded into PowerPoint.

Slido

Slido is similar to Poll Everywhere and is an audience participation software.

Example of a Word Cloud Poll used as an icebreaker in an Orientation Session.

Word clouds can also be used to ask questions to prompt students thinking e.g. "List the main takeaway from today's lesson"
Recording | Animation | Videos
Capturing content before class can help to save class time in explaining theory/concepts. Students can watch content before or after class to recap/revise the teaching material. Videos allow us to record different perspectives from subject-specific expertise across disciplines.
If you are thinking of creating videos that will be publicly available, please ensure you comply with copyright considerations and look for free options where available.
Do consider embedding some of the library's videos in your class if your module require the students to search for high quality papers:
Name of Tool

What is it?

Example of Use

Panopto

A recording tool to create videos with additional functions like quizzes, annotation functions and search functions.

Video analytics capture data such as engagement e.g. student viewing behaviour, quiz answers and annotations.

Please refer to CIT for more information on this software.

Used in information literacy programme NUR3202C for interactive asynchronous classes. Students could participate in answering in-video quizzes and annotate / comment on the video. Students could also search through the video's captions for ease of reference.

Video analytics were insightful for student assessment.

Camtasia

Subscribed video recording and editing software with a gentle learning curve.

Camtasia has its own library of media such as stock annotations, graphics and music which can be added to the video.

Please refer to CIT for more information on this software.

Used for creation of videos in many library lectures and programmes including but not limited to:

Massive Open Online Courses
GEH1049 Public Health in Action
Researcher Unbound Workshops

H5P
H5P, short for Html-5-Package, is a plugin tool that helps produce and run interactive content and interactive video within your LMS, or other kinds of eLearning browser.

Currently we are using "interactive video" feature together with the above mentioned Powtoon video to elaborate on library collection, services and facilities. More features can be explored such as branching scenario as well as virtual tour(360) can help students to visualise a certain theory/concept.

Canva

(free version)

A graphic design platform, used to create social media graphics, presentations, posters, documents and other visual content. Encourage creative student learning by using such platforms to translate their ideas :)

A simple activity where students are to submit a graphical component to their assignment on visualising "happiness". Class was shown a snapshot example, using Canva GIF/video.

Powtoon

(free version with Powtoon watermark)

PowToon is an e-Tool that creates animated videos for personal, educational, or business/professional use. It is a free, web-based (with options to upgrade), user- friendly software that creates presentations via three simple and easy steps: writing a script, recording a voiceover, and adding visuals

Orientation to introduce the library collection, services and facilities has been converted to Powtoon video to give a fun and interesting way to get to know us during the orientation week.

VideoScribe

(7 days free trials)

VideoScribe is software for creating whiteboard animations, as well as many other animation styles, automatically.

In MOOC video, VideoScribe video was created to illustrate on how a specific research question can fit in the PICO (Population, Intervention, Comparison and Outcome) format:
*In addition to the above, CIT has some tools such as Camtasia and Panopto for video creation and hosting, do have a look at their website for more information!
Immersive Technologies | AR | VR | MR
Tech Central which is located at Central Library Level 4, is a tech-enriched playground with immersive and interactive facilities to stimulate education and research. It includes 360imx, TEL Imaginarium, Digital Scholarship Lab etc.
To look for how to create an immersive learning program, check out our website as well as to book consultation with us on how these technologies and facilities can help you with: https://nus.edu.sg/nuslibraries/spaces/tech-central