Most of the readings for the past 2 academic years (AY2020/2021 and AY2021/2022) have been migrated from LumiNUS to Canvas' Course Readings.

Follow the below steps to reuse readings that have already been migrated to Course Readings. Only 1 reading list can be reused.

1. Click on New List.
2. Set the Duration for the list to be accessible.
Note: This duration (i.e. the start and end dates) cannot be changed once you have created the reading list. Hence, if you intend for the reading list be visible to students at a different date range compared to the date range shown under Predefined duration, please select Custom and indicate you preferred start and end date and reading list name.
3. As you are attempting to re-use a previous reading list, choose a Course code and Reading List (e.g. [2210] 2022/2023 Semester 1) from the drop-down menus.
4. Choose the readings.
5. Click on Next, followed by Create.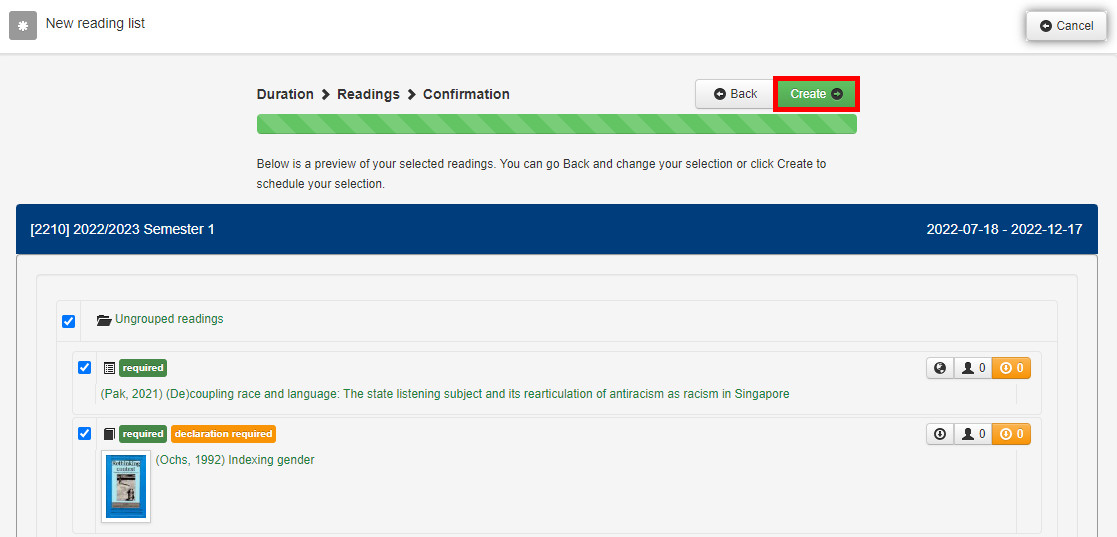 6. After your reading list has been created, you may see an orange copyright declaration banner. Follow the steps shown in the image below to declare copyright.